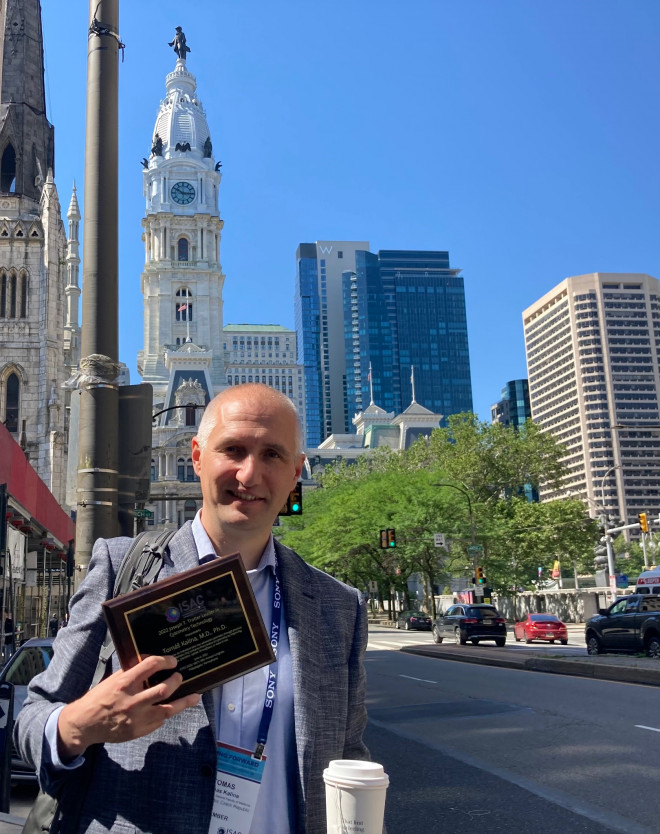 The prestigious award given by the International Society for the Advancement of Cytometry was taken over by immunologist Prof. Tomáš Kalina (Department of Pediatric Hematology and Oncology, Second Faculty of Medicine, Charles University and Motol University Hospital – CLIP) at the CYTO 2022 conference. It took place from 3 to 7 June 2022 in Philadelphia, United States.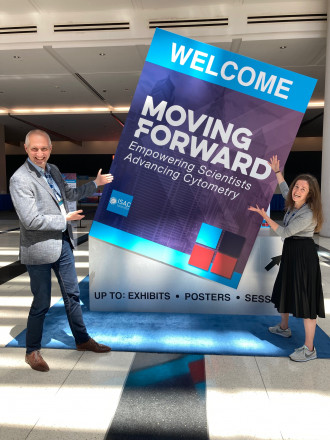 ​Prof. Kalina says of the award: "Cytometry is my passion, hobby and profession. It is fast and easy to perform and therefore it is an excellent tool for the diagnosis and classification of leukemias but also of immunodeficient conditions. I was lucky enough to have a great cytometric craft at the beginning of my career at the Fred Hutchinson Cancer Research Center in Seattle, USA, and then I had substantial support from my colleagues and bosses here in Motol. Here we built a unique cytomeric workplace. At the same time, I have been working in the European consortium EuroFlow since 2006, where I have the opportunity to participate in the creation of new diagnostic and research procedures. In addition, global, European and Czech cytometry is a great human community, inspiring, competitive but also supportive and full of interesting and nice people."
Laboratory CLIP – Cytometry, in which Prof. Kalina works, performs, under the guidance of Prof. Ondřej Hrušák, superconciliary cytometric diagnostics of childhood leukemias for the whole Czech Republic, diagnostics of immunodeficiency in cooperation with the Institute of Immunology, organises the EuroFlow international quality control of diagnostic measurements for laboratories on (almost) all continents and successfully operates a unique mass cytometer in the Czech Republic.
---