Come to our Faculty here in Prague and sit written and oral exams in one day.
For more information, please, see the link below:
Entrance Examination
» continue
Recruiting agencies
You do not necessarily need a recruiting agency to study at the Second Faculty of Medicine as you can just apply online through our website. Some agencies do, however, provide a reliable service. We have had a good experience with Tel-Aviv Medical College, CMS Agency CMS-Agency:www.czech-medical-studies.eu,  Berlin Medical Academy, Medical Doorway, Medizin in Europa, Gyanberry Dubai UAE, CzechUniversities.com by Foreigners.cz, Information Planet Portugal, AA Czech Studies s.r.o., Euro Medi Center www.mskinstitute.co.kr , EduPlanet Sweden, EduPlanet Norway, London Medical Academy, CZuni.com, M.D international studies. That said, there are other recruitment agencies that might only help applicants with part of the required paperwork, or that charge a large sum of money to do virtually nothing at all.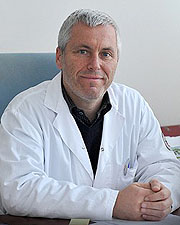 What to Consider Before You Apply?
Read a message from Ondřej Hrušák, MD, PhD, a member of the Second Faculty Academic Senate and the former dean.