Internationally recognized hematologist and oncologist prof. MUDr. Jan Starý, DrSc., says that he belongs to the lucky generation of doctors who have experienced an astonishing development in their fields. His work is exceptional not only in Czech, but also in the world context, as evidenced by its high number of citations. "When Jan Starý started in pediatric hematooncology, nine sick children out of ten died. Today, the ratio is the opposite. Mainly thanks to his zeal and commitment did leukemia in the 1980's begin to be treated according to Western standards in our country, and thanks to his efforts, bone marrow transplants have been carried out since the beginning of the 1990's. "Prof. Jan Starý received the Neuron Award 2022 in the field of medicine for his lifelong work," reports Neuron. ​You can find the interview including a video from the award ceremony (16 October 2022) here.
---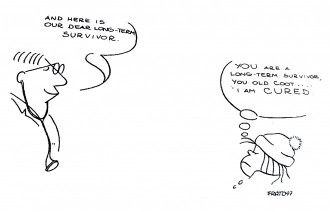 Prof. MUDr. Jan Starý, DrSc. (1952), became the chief physician of the Department of Pediatric Hematology of the Second Children's Clinic, Motol University Hospital, in 1988. In the years 2004-2021 he was the head of the Department of Pediatric Hematology and Oncology of the Second Faculty of Medicine and Motol University Hospital. He graduated from the Faculty of Pediatrics, Charles University (today's Second Faculty of Medicine); he habilitated in the field of diagnosis and treatment of childhood leukemia and bone marrow transplantation; in 1976 he started working at the Second Children's Clinic and Motol University Hospital.
---
An interview with prof. Starý on teaching medics, working as a department head and news in treatment can be found on the faculty website here.