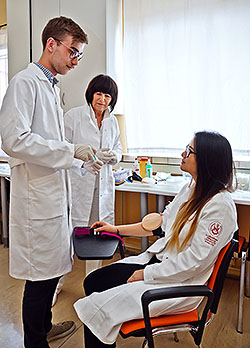 Lists of subjects, their characteristics, recommended literature and conditions for termination of subject are listed in the following reports.
Field of Study:
General medicine
The master's program General Medicine provides Department of Nursing 2nd Faculty of Medicine Charles University, and Motol University Hospital.
In Study Information System SIS you will find all information about teachnig and links for study materials in Moodle:
1st year
  Nursing I
2nd year
  Nursing II
  Summer holidays training – Nursing

Summer Practice – Nursing (individually at home countries)
For downloading Nursing I and Nursing II english textbook click here.
The content of education, the conditions for courses termination and areas of question for the exam are listed below each link.
Coordinator:
PhDr. Šárka Tomová
tel.: 224435837
email: @email