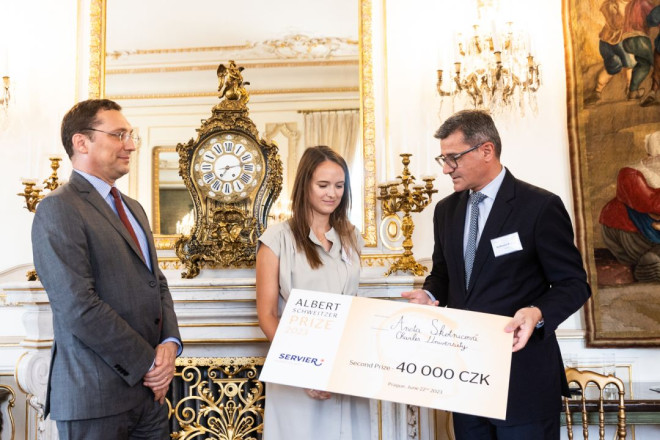 RNDr. Aneta Skotnicová, a PhD student from the Department of Pediatric Hematology and Oncology of the Second Faculty of Medicine and Motol University Hospitaly, won 2nd place in the prestigious Albert Schweitzer scientific competition. The prize is awarded by the French Embassy in Prague.
---
"This year's competition was very well attended, which is why the second place of a candidate from our faculty is a very good result. Mainly because the difference between first and second place was minimal," said Prof.  Richard Škába from the Pediatric Surgery Clinic about Aneta Skotnicová's success. He has first-hand information, too, because, with the exception of one year, he participates in the work of the expert jury for the entire duration of the competition.
Aneta Skotnicová was among eight other candidates from three medical faculties in Prague and the medical faculties of Masaryk University in Brno and Palacký University in Olomouc with her work The genetics of hematopoiesis disruption.
The jury of the medical category of the competition was made up of competition coordinators from individual faculties. The president of the jury was Professor Arnold Munich, head of the Institute of Medical Genetics at the Paris Necker Children's University Hospital and founder of the Institute of Genetic Diseases IMAGINE.
For her beautiful 2nd place, Dr. Skotnicová will receive a scholarship of 1,700 EUR from the French Embassy, which will enable her to carry out a one-month research stay in a French laboratory of her choice. She received the award in the presence of Nobel Prize winner Jean-Marie Lehna.
The competition for the Albert Schweitzer Prize in the field of medicine is announced annually by the French Embassy for doctoral students under the age of 33 as part of the Scientific Prizes of the French Embassy for seven scientific fields.