Years: Six
Mode of study: Full-time
Language: English
City: Prague
Accreditation: Medical Board of California
Entry requirements: Secondary school graduation certificate & entrance exams
Start: October
General Medicine Course (MD)
The Second Faculty of Medicine provides secondary school graduates with a six-year full-time course of general medicine. The course in English has been running since 1992 and, besides the standard national accreditation, it is accredited by the Medical Board of California, which makes it easier for the students to apply for jobs in the United States of America.
The curriculum involves theoretical and pre-clinical subjects, followed by clinical subjects, and is identical for both international and Czech students. Subjects in all disciplines finish with credits and examinations.
The first three years of study consist of a range of different theoretical and pre-clinical subjects that will provide you with the requisite skills and scientific knowledge. (See study plans.) In your first year you also start seeing patients and in your second year you receive practical training in nursing care.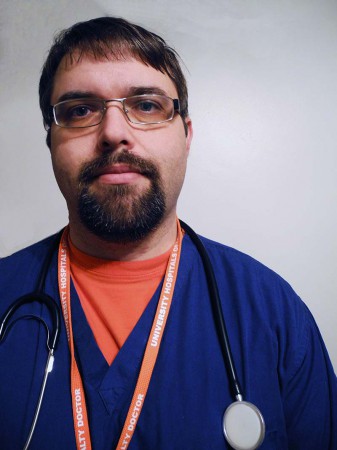 Why Study Czech?
Although the structure of the Czech language is quite different from that of English or other non-Slavic languages, a foreigner normally only needs about a year's study to understand basic Czech.
Read a message from our former student, Doctor Frank Trollman
At the end of the third year, you need to pass an exam in the Czech language so you can communicate with patients and nursing staff while studying clinical subjects.
The fourth, fifth and sixth years consist of clinical disciplines with a block-schedule teaching. Practical training takes place at Motol University Hospital, and in special health institutes in Prague and other cities; it includes internal medicine, surgery, gynaecology and obstetrics and paediatrics (see details). You will continue seeing patients; visits to general practitioners' (GPs') offices are an important part of the curriculum and special attention is paid to teaching basic clinical and communication skills in connection with common clinical practice. You are also expected to prove your abilities in independent scientific research and you will have the chance to acquire and enhance your knowledge in subjects and fields you are particularly interested in by attending optional subjects and specialised courses.
As a student, you can broaden your horizons even further by spending a semester or more studying at one of many universities in Europe and in the world, following an individual study programme. You also have the option of serving an internship at renowned hospitals and clinical institutes all over the world via the IFMSA and other exchange programmes.
The final state exams are taken in the subjects of Internal Medicine, Paediatrics, Surgery, Gynaecology, Obstetrics and Public Health.
As a graduate, you are entitled to using the degree 'Doctor of General Medicine' (abbreviated as 'MUDr.' or MD), recognised in the EU and the United States.