When Erasmus students came out of the Small Auditorium, they looked a little overwhelmed by the load of information they learned from vice-dean Štěpánka Průhová, Erasmus+ program coordinator Rudolf Černý and two ladies from the Department of foreign affairs.
---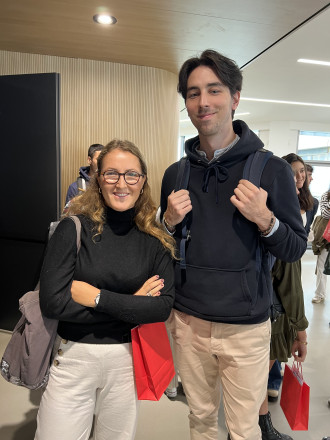 In the respirium, not only were there traditional Czech chlebiceks (and strudel or doughnuts) waiting for them, but especially their Czech Buddies. These students of the Second Faculty of Medicine joined the Buddy program and decided to help the arriving foreign students.
For some of them, this was their first experience guiding foreign students; like for Jakub Nováček from the third year of General Medicine. He was only in contact with his French ward Sara for a few days, as he had been waiting a long time for approval in the university system.
"There were only girls left," he answers when asked why he chose Valentine. He chose based on the information she provided about herself.
Valentine appreciates Jakub's help, especially how quickly he answers her questions. She also likes how much information she received directly from the faculty. She feels welcome at the Second Faculty of Medicine.
"I'm looking forward to dicover new people, a new city, a new hospital and different system," says the student from Lyon.
Jakub is from Karlovy Vary, so if she wants, he can take Valentine on a trip. "In Prague, I will show her places where you can study and some good cafes," he plans.
In addition to recommending Janek Rubeš's Honest Guide to her, he would take her to the Royal Gardens, Letná or Riegerovy sady. After all, all of those are fairly close to Valentine, as she decided to spend her stay in Prague in Žižkov.
Seasoned Buddies
Other students already have experience with buddy-ing. Barbora Lacková and student coordinator of the buddy program Kateřina Stanzelová were not missing. Tomáš Pýcha from second year already has experience, although from a different faculty.
 "I find interest in getting more involved in the events at the faculty," says Tomáš, who already has a bachelor's degree at ČVUT and experience with the Buddy program at this university.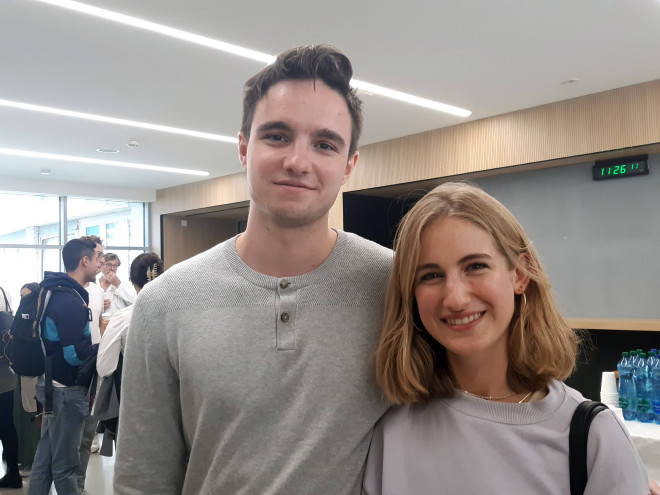 He confirms that whether their friendship will survive the foreign students' stay in Prague depends on the amount of time and care the local med student devotes to their Erasmus counterpart.
A native of Prague usually takes foreign students to Letná or to a good pub where they serve good beer.
He met Sara from Genova at the airport. He thinks it's a good start to a mutual relationship, and in addition, he can easily shield arriving visitors from the airport taxi drivers.
 "I will attend pediatric course. A few moments ago, I saw professor (Průhova - editor's note), who seems really kind. I'm happy with that;," says Sarah enthusiastically, adding:
"The University hospital seems really big. This is a good sign for me because I can learn a lot and do whatever I want."
During Welcome day, the student coordinator of the Buddy program for LF2, Kateřina Stanzelová from the Motolák, was everywhere.
With a smile and enthusiasm, she jumped between groups of students, asking the foreign ones if they had a Buddy here already, bringing together people who had only known each other from the virtual environment until now, taking care of those whose Czech counterpart had not arrived.
After the official program, a group of Czech and foreign students set off on Tour de Motol, and then to deal with ISIC cards for everybody. What was next is a secret of those who participated. We wish all foreign students that their Prague adventure will be rewarding.