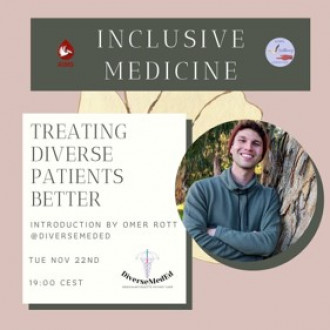 Hello! We would like to invite you to one of our interactive lectures. We are the Wellbeing Committee of the Association of International Medical Students (AIMS), focusing on help and education in mental health and discrimination. Medicine unfortunately wasn't made equal, and still, there are biases, known or not, that we learn, in procedures, devices, and attitudes. We would like to contribute to our medical education by learning more about treating diverse groups of patients, and we would like professors to join us on this journey! If you are interested, take a look at the description and flyers. Have a great day, AIMS Wellbeing Committee
"Would you like to learn how to help a patient feel safe at your office? Learn what MSM stands for? Would you like to share your knowledge about the most biased medical devices? Join us for our interactive lecture with @diversemeded on the 22nd of November led by Omer Rott: We all deserve the best medical care, but that doesn't mean we should all receive the same treatment, each group has its unique requirements and needs.
Hey everyone! My name is Omer, a 6th-year medical student and founder of DiverseMedEd. I started DiverseMedEd after noticing the lack of education in both universities and hospitals about the different unique communities out there. My goal is to provide info on how to improve our interaction and treatment of patients from those different groups. So far I discuss 14 different patient categories and I'm always adding more. During this webinar, we will focus on learning the basics about the following patient categories: men who have sex with men (MSM), transgender, dark-skin, autistic and physical disabilities."
To sign up, scan a QR code or follow this link:  https://docs.google.com/forms/d/e/1FAIpQLSfSXZ6cVZu8qtl-mEKaXPmWgsijTYByKR2CTncIYQ8FLqHSkg/viewform
You will get an email notification with the details and webinar link a day before the event.