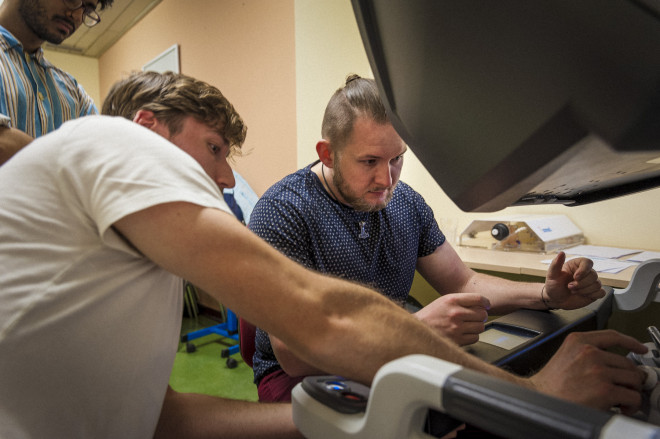 The last week of the Robotic Olympics is ahead of us and only a few participants can change the composition of those advancing to the final round. The final will take place on Monday 30 May 2022 from 8 a.m. in the Department of Urology training center. What will the final day look like?
7:30 a.m. – 8:00 a.m. Registration of finalists
8:00 a.m. – 12:00 a.m. Final round
12:00 – 1:00 p.m. Announcement of results and the award ceremony; the three best participants will be awarded
1:00 p.m. – 3:00 p.m. Final round of lecturers
Refreshments will be provided throughout the final day.
The currently advancing students are:
1 Albert Vaiskevich
2 Barbora Hamouzová
3 Martina Maixnerová
4 Lukáš Vaněk
5 Matyáš Sláva
6 Sofija Lekič
7 Kristýna Blažková
8 Andrej Nárožný
9 Vojtěch Svoboda
10 Benjamin Rom
We will contact all finalists and invite them to the final round on Thursday (26 May) or Friday (27 May), as soon as the final results will be available. If one of them is unable or unwilling to participate, we will contact the next in order.
Substitutes are now:
Vít Lavička
Jan Šimáček
Juraj Izák
or others in order
We look forward to you!
For the organizational team
MUDr. Vojtěch Novák