Vira Tovazhnianska, a pathologist from Kharkiv, Ukraine, has recently embarked on a challenging journey to the Czech Republic. She has been working as an assistant lecturer at the Second Faculty of Medicine since April. A success story of a refugee fleeing from war.
---
Dr. Vira Tovazhnianska is a pathologist specialized in urology tumors. Previously she worked at the Kharkiv Regional Medical Clinical Center of Urology and Nephrology and taught at the Medical Academy of Post-Graduate Education. "On February 24, I woke up early in the morning and heard the first bombs exploding. Luckily, right after the Donbas conflict in 2014, many families including ours got their emergency kits packed up to be able to leave home instantly, if necessary," says dr. Tovazhnianska when describing the outset of her journey that eventually brought her to the Czech Republic. Initially, she and her husband, their two-year old daughter and her mother-in-law travelled for two days to the city of Lviv in the West of Ukraine. Not finding a safe haven even there, they decided to continue farther westwards... but not all of them could: her husband, as well as her father, had to stay in the Ukrainian territory.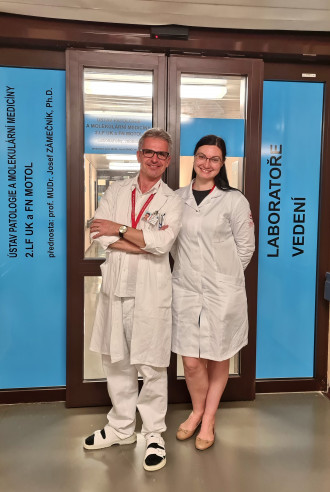 Upon her arrival in the Czech Republic dr. Tovazhnianska wasted no time and started sending out her CVs. One of the recipients was the Department of Pathology and Molecular Medicine at the Second Faculty of Medicine and Motol University Hospital, headed by Professor Josef Zámečník: "We got so many CVs, Vira´s was not the first one. Along with our Head Physician we listened to stories that were horrifying enough if you watched them on TV, but when hearing them out in person, they simply shattered you into pieces. Unfortunately, due to the language barrier we could not hire any of the applicants, nor did it seem okay to offer low-skill medical jobs to qualified doctors. And guess what, then we got another CV. And this one made a lot of sense because associate professor Tovazhnianska speaks perfect English and has a teaching experience."
Two days later dr. Tovazhnianska was made an offer to start out as an assistant lecturer. Thanks to the enthusiasm and determination on the part of the faculty human resources staff, the hiring process took no more than two days, a historical record. "I am really happy about how fast we were able to do the paperwork and complete the hiring process. Big thanks to everybody. It is a specific help to a specific person in need, but more than that, it is a mutually advantageous cooperation that both sides benefit from. Assistant professor Tovazhnianska is an experienced teacher and has already got engaged in teaching of international as well as Czech students," says professor Zámečník. Olga Folková, former Head of the Faculty HR Department adds: "The hiring of assistant professor Tovazhnianska required intense cooperation between the faculty management, professor Zámečník, the HR Department, and the Charles University Chancellor´s Office. We could not fail to notice how joyful the assistant professor was about becoming an employee of the Second Faculty of Medicine so fast."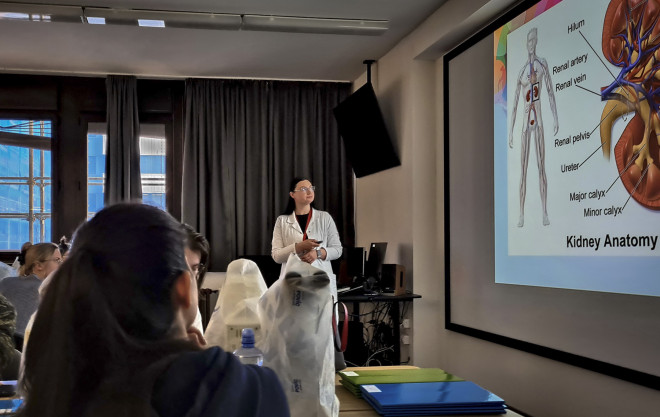 ​Nonetheless, there is still a long way to go before the new doctor can get engaged in research projects, work in the hospital, and focus on her specialization: diagnostics. She will need to have her diploma validated, learn the language, and pass the teaching certification exam. "I am immensely grateful to all who have helped me. But as of now, everything is still in the planning stage," says Vira Tovazhnianska.
Read more:
I Still Can´t Believe I Am Living Here (a conversation with Dr. Tovazhnianska)