A Conversation With Dean Prof. Marek Babjuk About Ukraine, Communication, Robots, Digitisation, and Techno Party
Prof. MUDr. Marek Babjuk, CSc., was born in 1961, part of his family comes from the town of Kolomyja in Halych (now part of Ukraine). He graduated from the Faculty of General Medicine (which is now the First Faculty of Medicine of Charles University), in 2003 he habilitated in urology with the topic of non-invasive diagnosis of bladder tumours. He received his professorship in 2009. He is the author of about 150 scientific articles and the author or co-author of several monographs on urology. In 2009, he became the head of the Urology Clinic, Second Faculty of Medicine, Charles University and Motol University Hospital. He is a visiting professor at the Medical University of Vienna, a member of the European Urological Association (EUA) and on editorial boards of a number of prestigious periodicals. In 2021, he was elected Dean of the Second Faculty of Medicine.
---
First of all, I can't help but ask about what is troubling us all these weeks. How do you feel about the conflict in Ukraine? Did you expect Russia to go this far? You have family roots in Ukraine...
It's a tragedy, regardless of my family roots. We couldn't imagine that it was still possible to solve problems this way nowadays. But because of my relationship with Ukraine, I think I perceive it more intensely. My relatives live there, so I worry about them.
They are safe, I hope.
Fortunately, they are, but it is affecting them and will continue to affect them. On the other hand – having roots there – did it come as a surprise to me, I wonder? From the beginning of the war to the fall of the Soviet Union, none of our Ukrainian relatives lived their lives in peace, without being displaced or resettled. From this point of view, I am not surprised.  
Our Ukrainian colleague knew the danger coming from the Russian border ever since the invasion of Donbas, and he solved it for himself and his family by moving to the Czech Republic. How do you perceive the developments in Russia?
I personally see two mementos from those developments. It is extremely important for any country to create and maintain a civil society that is the basis of democracy and that prevents the abuse of power. Unfortunately, Russia, a backward country, did not use the time after the fall of communism to do anything of the sort. The more progressive part of the population is given the opportunity to consume, but public affairs are controlled by a small select clique. Incidentally, Chinese society, also, is built on a similar model. This is dangerous, and we should be careful about this in our country, as well, as there are certainly more ways of limiting power to a select group of people and destroying civil society. Secondly, we should beware of a certain fascination with Russia and its money. This fascination we see over and over again in many of our leaders. Russia, as a country, has long-term strategic interests, which go against our interests. If you look into the past and at the current situation, it is clearly visible. We should not forget it, and our government should behave accordingly. This is something that is outside personal and professional relations; of course, I know a number of Russians whom I respect as professionals and as persons. However, in the current escalated situation, even these relations will, unfortunately, be severed – and it has to be said that it is not our fault.
It is your priority to make the faculty a place where people will enjoy working and studying, and you can draw on your extensive experience in managing people as a manager and as a vice-dean for personnel. What investments in human capital, to put it very bluntly, do you think are the most worthwhile?
It is an overall strategy. We should balance the feeling of security and trust with motivational elements in employees. We need to make decisions that stimulate human activity. In addition, daily contact with people, communication with them, and role models are also extremely important.
What advice would you give to younger colleagues who want to become good bosses?
That they should listen to what people tell them. A leader should not become angry when someone says something he or she doesn't want to hear. Also, they should surround themselves with people who are not afraid to say something outside the majority opinion. And to be a role model, whether as concerns work commitment or standards of behaviour.
In your television portrait (in the Master of Medicine series, Czech Television 2021) you said something that caught my attention, namely that it is necessary to find a balance between being radical and being considerate. Then, you referred to removing a prostate tumour – but could it apply to faculty management?
By being radical I meant oncological completeness, perfection – to remove everything that needs to be removed but avoid complete devastation. By being considerate, I was referring to the tissues that don't need to be destroyed. You can draw an analogy with anything. The faculty's direction is about finding a compromise between change and motivation and, on the other hand, not causing some kind of social revolution or destruction.
Stimulation is a key concept for you.
Yes. And it should be for anyone in a management position. To give people space and motivation. I don't know if I can do it, but I'll try.
In your candidacy for the deanship, you were supported by an entire network of your international contacts. Which university has been your biggest inspiration and in what ways?
As far as support is concerned, why, yes, we have built up a network of people in my field who work together, supporting each other and sharing experience. The support is broad and mutual. In my specialisation, which concerns oncological issues, specifically the treatment of urological tumours, the University of Barcelona and its oncology centres come to mind. Specifically, for example, the way they are able to raise funds, using them for important projects, and the way they have gained, in a relatively short time, worldwide respect.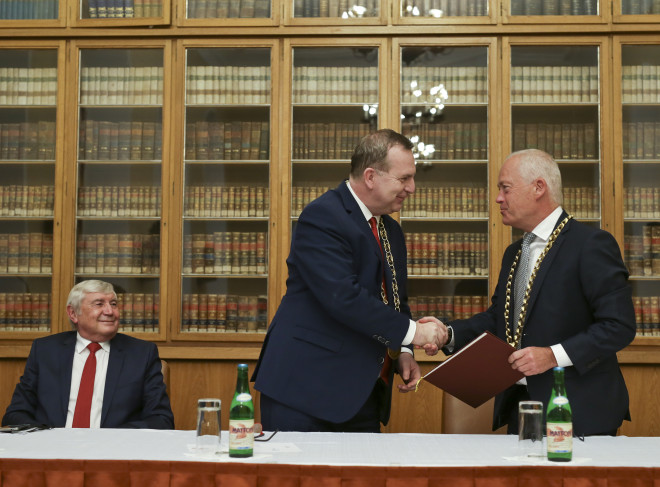 You often refer to the Medical University of Vienna, where students spend their entire sixth year at the bedside. Our curriculum in the sixth year now includes the subject K40, clinical forty days. Is that a compromise from your point of view? And is the Viennese model transferable to the Czech environment at all?
We were inspired, yes, but we never planned to adopt the Viennese curriculum completely. The fact is that we are aiming for the sixth year to be practical, a kind of intermediate step between study and medical practice, and I think that the new curriculum meets this goal. The purpose of K40 is to allow the students to spend two months in the field in which they will later specialise, so that they can do their bedside training in a field different from the field necessary for their state exams, although they can opt for one of the state-exam fields within K40, as well. In other words, the purpose is to tailor the final year composition to the diverse needs of the students and their intended careers.
A quality medical education includes foreign international experience, and medical scientists need to travel frequently: to conferences, congresses, meetings of professional societies or advisory bodies. You yourself like to travel all around the world. Is this model sustainable in times of a covid pandemic, and climate crisis in particular?
You know, even before the covid pandemic started, travelling to congresses and lectures had become hardly manageable. At times, I was at a congress or seminar every weekend, I counted about seventy flights a year. That's extreme and I don't think the world is going back to that, as it's uneconomical in terms of both money and time.
I see the ecological perspective of flying, but I think it needs to be considered in a broader context.
What should be the role of the academic, the third role of the university – should we also see travel as a problem? Faculties of Humanities and Social Sciences, for example, put more emphasis on ecology.
The Humanities are in a different situation than we are in medicine, where practical teaching plays an important role. Some things just can't be taught at a distance. We should judge it rationally – I would make a distinction between travelling around the world for a ten-minute lecture and a student going on a two-month internship or a six-month stay to collaborate scientifically or gain irreplaceable experience and skills. In the end, though, even that ten-minute lecture can be of varying significance. Without collaboration with foreign countries, it is difficult to produce top doctors, scientists or teachers. We need to look for a sensible way and think about the whole context. Even if our doctor does not fly somewhere, the plane might just fly half-empty, and the doctor may leave a carbon footprint in other ways at the same time. But this is not to make light of the whole environmental issue – it just underlines the need to rationalise our activities and behaviour.
Communication technologies and remote operations can help.
Of course. We have to learn how to implement these technologies. We learned a lot in the covid era when we had to hold conferences virtually. Paradoxically, we made conferences more "international" than ever before. For example, we hosted several world experts to record their commentary on the issue being discussed on a mobile phone or other commonly available devices. We should use this experience in the present. For educational symposia, many papers can be pre-recorded virtually, so that participants can begin to engage with them in advance, and then the most relevant and interesting ones can be opened up at the conference itself. This will allow conferences to be shorter and also, for example, we can avoid half-empty halls at the end of a multi-day congress. By having such a hybrid event, we actually solve many of the problems you have alluded to: no wasted resources on rent, heating, travel, accommodation, and not bothering people. It would be a mistake not to take advantage of this further, although of course, we cannot deal with all types of conferences or all educational events in this way.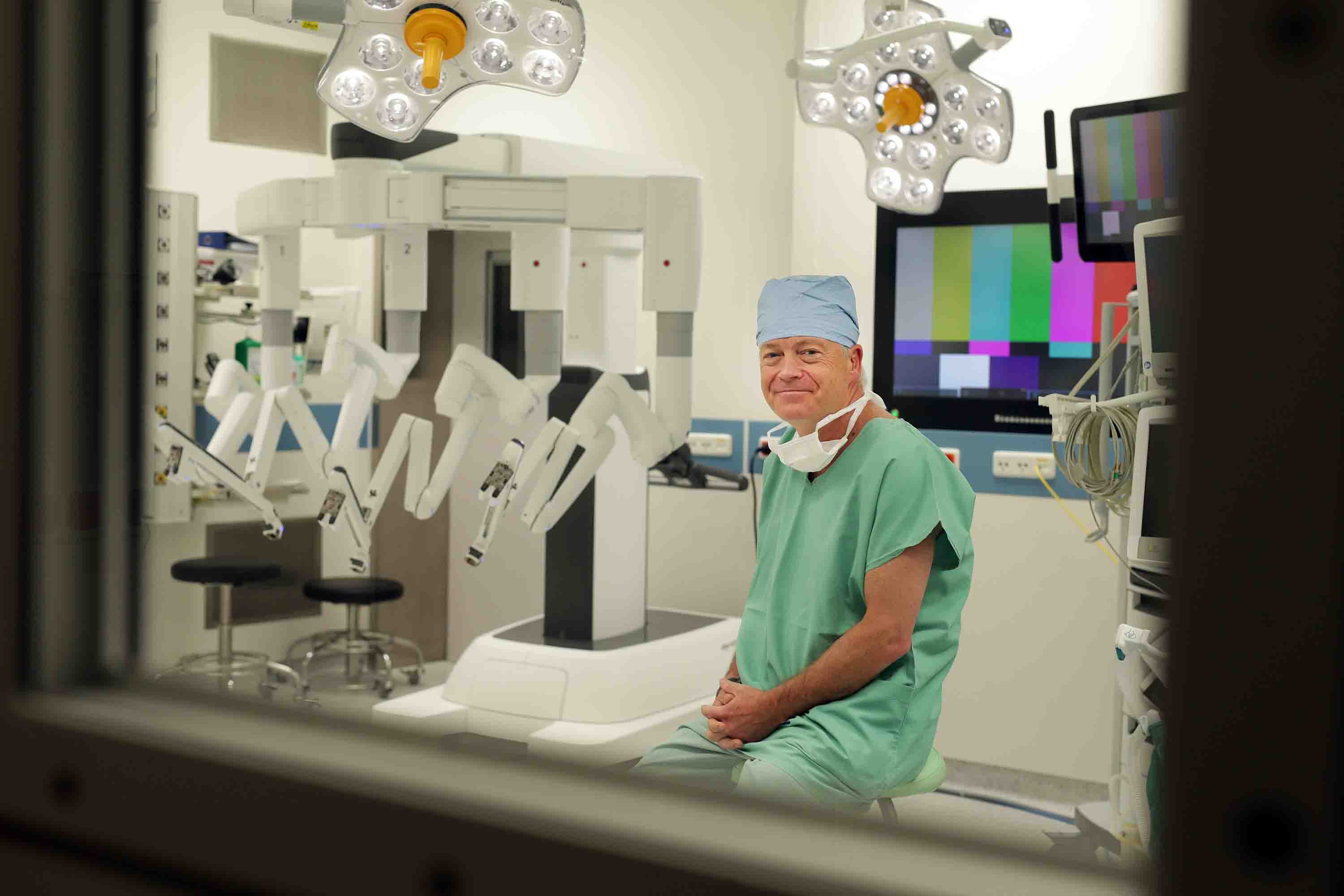 Last year, we opened a simulation teaching centre at the Faculty, right here at the Urology Clinic. I would like to ask about the latest simulation techniques, 3D models and virtual reality. How far is their use in your field? Are you planning operations on computer models? Where are your clinic and faculty heading in this area and where can we go from here?
There are multiple aspects to this. One is didactic aids for individual subjects, for example, anatomy. We have a virtual anatomy table on which we can show the different structures of the human body. We also use the collaboration with the anatomy institute for students in clinical disciplines to bring anatomical contexts to life. Added to this is modern technology entering into routine surgical treatment. For example, in endoscopy, the surgeon observes a digitized image, which creates the conditions for the creation of a perfect simulator. Individual situations can be simulated, teaching both basic principles to undergraduate students and specialized procedures to specialist doctors. I am pleased to see that urology has always played a leading role in the use of surgical simulators.
It is also important that endoscopic methods and their use and the modern form of their teaching make medicine less invasive, more effective and safer.
The use of artificial intelligence today is more in the research area. The faculty should also participate in this. For example, there are efforts to use artificial intelligence to evaluate endoscopic images, it is being discussed in ophthalmology and other fields.
Are we going to expand the group of people who will be able to teach on the simulators?
Certainly. We currently have two such colleagues in our clinic, but we need more. We've arranged to borrow a DaVinci surgical robot trainer for the next two months. We want the students of our faculty to have the opportunity to try out the work of a surgical robot. To this end, we need student tutors, whom we will train, and they will then teach other students. The students will be able to compete who can do the drafted exercises more accurately or quickly. The success will be evaluated by an instrument. We'll call it the Robot Olympics - the winner will get an interesting prize.
In the programme you promise to move towards the digitisation of the Dean's Office. I imagine what it'll be like when we're not running around with papers. How do you feel about that? Electronisation, digitisation and, of course, integration of university systems is one of the priorities of the new rector...
Yes, we cannot proceed without cooperation with Charles University, the systems must be compatible. I believe that the new vice-rector from the Faculty of Mathematics and Physics, who is heading the working group, will do his job well. So far, we have only taken basic steps to digitise the agenda of the HR Department. This is extremely important not only to keep things in order, but to create a favourable environment for the communication of staff and students with the Dean's Office, and for the work of the Dean's Office itself. We don't have the space, and this is what a home office would allow.
The faculty concert is soon to take place, and several things come to my mind: the founder of the tradition of faculty concerts, Professor Josef Koutecký, your son Kryštof playing in the band Hungry Beats, the Christmas party of the rectorate of a British university I went to, which was more like a disco party... I wonder what style we may expect from you. Wouldn't we be a bit more international if we played hardcore right now, don't you think?
I am not prejudiced against any art or genre. I'm perfectly happy to drop in for an electronic music concert, but as for Karolinum, classical music is more becoming. On the other hand, I would certainly enjoy organizing an event of a different nature, such as a faculty techno event, should the students be interested. What is nice about the faculty is that it combines both the tradition and the progressiveness of youth. Moreover, the faculty has to be a living organism it must not be boring – so that when the students graduate and look back, they feel they not only learned something, but they also have fond memories – so that the six years are not boring and in vain.