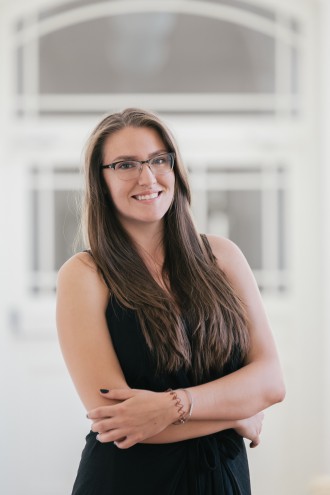 Tamara Fořtová from the fifth year of General Medicine, together with two other medical students, founded a non-profit organization EMOTER. The organization's main mission is to bring medical care to Uganda. Other volunteers can also participate. You can find more information on the EMOTER website.
---
What year of study are you in now? Why did you go to the Second Faculty of Medicine, Charles University? Would you choose this faculty again? How do you perceive the support of students' activities by the faculty?
Currently I am studying General Medicine in the 5th year. I chose the faculty partly because I was attracted to a more intimate environment with fewer students and the possibilities of a large hospital, such as the Motol University Hospital. Also for purely practical reasons because the entrance exams were the first in line and I wanted to have a holiday after graduation. I did not feel the need to try my luck at other faculties. I have never regretted the decision; I am satisfied with the faculty. Regarding the support of students' activities by the faculty, I think that if a person speaks up and wants to promote their idea or project, they will eventually get the necessary support.
What was the impulse for founding EMOTER and why and when did you personally join it?
EMOTER was founded on the initiative of a medical student, now a doctor, Lenka Karahutová, another medical student Petr Janota from the 3rd Faculty of Medicine, Charles University, and me at the beginning of the last year. At that time, Lenka returned from her several internships in Uganda, where she had learnt a concept of so-called "medical outreaches", which formulated the main idea of our project. During my studies, I have always been attracted to emergency medicine, medicine in developing countries and similar issues. That is why I am grateful that I could get involved in EMOTER from the very beginning. I think that we harmonized together very quickly. We motivated each other in the next shift of the organization. Today we have more than twenty volunteers from the Czech Republic and Uganda working together, which I still cannot really believe!
The introduction of EMOTER on the website says: "EMOTER is a non-profit organization which brings medical care to Uganda." Why Uganda, precisely the Nebbi region?
A purely pragmatic reason is that Lenka went on an internship to Uganda during her studies and therefore she was able to experience the local situation and the medical environment personally. We have chosen the Nebbi district because currently there are 350,000 people living there, on almost 2,000 km2. There are only two hospitals, whose quality could be discussed. For comparison, we have about a quarter of an area with fifteen hospitals in Prague.
Do you help more directly in Uganda? Or rather "at a distance", e.g. by raising funds? What is the ratio of a direct aid in Uganda versus fundraising?
This question is quite difficult, although it sounds relatively straightforward (smile).The aim of our work is sustainability and running the organization in a long term. We do not want to act as "another non-profit organization which only sends money to Africa", as we have already read on our social networks. Therefore, we have a combination of volunteers from the Czech Republic and Uganda in our team. During medical missions, there is a medical team consisting mainly of Ugandans supplemented by Czech volunteers. In the future Lenka would like to move to Uganda and stay there permanently as soon as the Covid situation allows it. We provide fundraising, marketing, accounting and other positions important for running the entire organization in the Czech Republic. Definitely, fundraising and organizing issues is the key part of our work. However, the Ugandan branch is a full-fledged part of our team, which, together with Lenka, provides long-term work with a local community including direct medical care.
What are your main projects? Which one is the most challenging and why?
Totally, we focus on four projects, which are interrelated with each other. The alpha and omega of our work are the above-mentioned medical missions. They are organized regularly every month. This is definitely the most challenging matter, as it means mobilizing local communities in advance and providing facilities and volunteers for a three to four day mission. Then the necessary material is bought and our team goes to the place the day before. A lot of people wait for the treatment there from the early morning. During the mission, we provide treatment, basic laboratory tests, vaccination (according to the valid vaccination calendar, of course), and distribution of basic medicines. Our next project is prevention. This includes vaccination but also deworming and distribution of necessary vitamins. Prevention is also related to our educational programme, which provides both radio broadcasts and workshops. These activities will start again as soon as they are allowed by the epidemiological conditions. We focus on education of all ages. We speak about all topics including nutrition and hygiene, sexual and reproductive health and prevention of infectious diseases. The last programme is charity. We gather donors and organizations and they provide school and hygiene supplies, clothing and other necessary things in orphanages and other places. Currently this programme is the most suppressed one due to the coronavirus crisis, but it will not be forgotten, for sure.
Have you personally been to Uganda?
Personally, I am going to the site for the first time this September. I should have gone there last year, but due to the pandemic and the nationwide lockdown in Uganda, I had to postpone the plans. I am planning to be in Uganda for three to four weeks this year, during which I am going to take part in one of our medical missions. I will spend the rest of my time on an internship at Galilee Hospital in Kampala and perhaps I will even travel a bit. Therefore, I will be able to share my own experiences later (smile).
How do you manage to combine EMOTER and your study? How much time do the activities in EMOTER take you?
Sometimes it is easier, sometimes I cannot keep up, but it is typical for studying medicine in general! I spend a lot of time working for EMOTER. In the beginning, together with Petr and Lenka , we had to learn things which we had never faced at work before. For example, how to register a non-profit organization in the Czech Republic, in Uganda, how to set up an ideal business model, how to write and submit a grant application correctly, or also how to modulate our non-profit accounting. It takes me a lot of time, but I enjoy all the work and it makes sense to me. Definitely, I am not complaining. Moreover, I do not think it is a negative sign in my study, quite the contrary!
Have you already decided which field you would like to specialize in after graduation from the faculty? What role does the experience of EMOTER play in your decision-making and how is it valuable for you?
After graduation I would like to devote to anaesthesia and intensive care. Maybe I am even thinking of a full-time job, for example at the Emergency department or at the ambulance. I believe that I will surely use the experience of going out and doing a hospital internship in a developing country like Uganda. I have been already aware of my way "before EMOTER" and I am just getting stronger in it!
How many people are active in EMOTER currently? Do you welcome more volunteers? How can they get involved?
Currently, our team has 21 volunteers, four of them are local paramedics in Uganda, and the others are in the Czech Republic. At first, equally enthusiastic classmates from medical faculties joined us. But now we have also people outside of medicine. They have found us, for example, through social networks. They wrote they wanted to join the team. I am really happy with the whole team. We were lucky to meet such people because definitely, we could not work in the way we are doing at the moment without them! Currently, we are missing especially someone who would help us with website maintenance, legal matters or accounting. We are also trying to give an opportunity to get medical students or other health professionals involved during our missions. Unfortunately, the terms during summer are full and we will see how we manage to set up cooperation. However, we would like to offer this opportunity in the future as well. I believe that this is invaluable experience!