Best International Students Awarded with Significant Tuition Reductions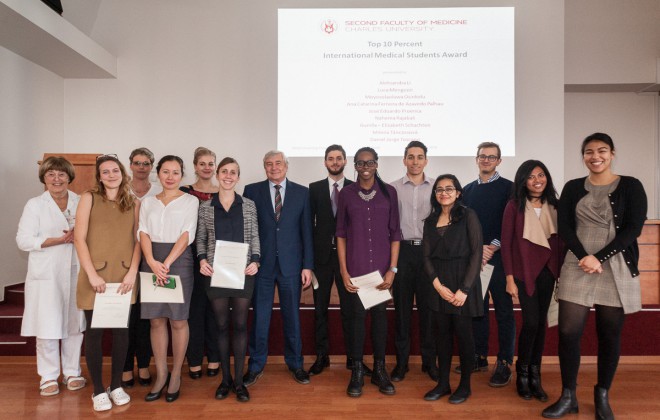 On Tuesday 6 February 2018, the Dean awarded the top international students of the Second Faculty. Read the report and see pictures from the ceremony.
---
On Tuesday 6 February 2018, Dean Vladimír Komárek awarded Roxane Isabel Riemer, Arian Taniwall and Marguerite Kemkemer with the Best International Medical Student Award.
Anne Tharindi Shenali Dias Amaratunga, Sravani Angara, Melvin Bae, Maria Francisca Farraia Sena Batista, Paulina Bernardová, Manon Dietl, Miriam Koehler, Verena Leppmeier, Aleksandra Li, Luca Mengozzi, Moyosolaoluwa Osinkolu, Ana Catarina Ferreira de Azavedo Palhau, José Eduardo Proenca, Nahema Rajabali, Gunilla-Elisabeth Schachten, Milena Tánczosová and Daniel Jorge Toscano were awarded the Top 10 per cent International Medical Students Award.
Both awards are awarded annually to the top students, the rules for awarding can be found on the website here and here. They not only represent an outstanding achievement in a symbolic sense, but also have a very practical impact. The awarded students get significant reductions in their tuition fees, while the best students receive generous 50 per cent tuition rebates for the academic year.
The ceremony took place in the Kinosál, a space where other important events like meetings of the Scientific Advisory Board of our Faculty are held. Dean of the Faculty prof. Vladimír Komárek and Vice-Dean for Study in English doc. Květa Bláhová held short congratulation speeches before traditional hand shaking.
Once they took their diplomas, we asked Roxane Riemer and Arian Taniwall a couple of questions: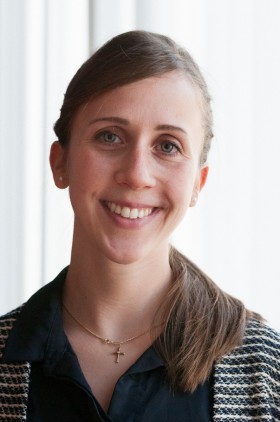 Did you expect you would receive this award?
Roxane: No, I didn't expect it at all. I was pleasantly surprised. I studied, I was trying my best, but the award is something extra.
Arian: No, it wasn't anything I actively thought about.
What's your recipe for effective learning?
Arian: There isn't any secret, it's all about hard work. I'm among those people who push things to the end, so sometimes I must study more before exams.
Roxane: I study till I think I understand the questions and feel that I did as much as I could.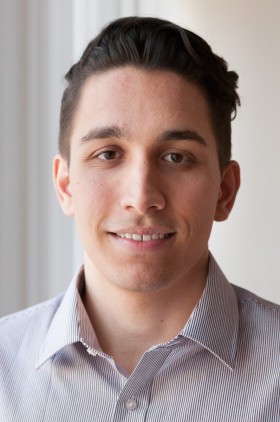 Do you study regularly through the year?
Arian: Not as much as I would like to.
Roxane: Yes, I try to.
What will you do with the money you receive?
Roxane: I will save it and invest it for the next year of studies.
Arian: The same for me.
What are your plans for the time coming?
Arian: Pass the exams next semester! And next year I would like to go for an internship, possibly outside Europe.
Roxane: The next semester seems difficult. I will try to learn all the important information.