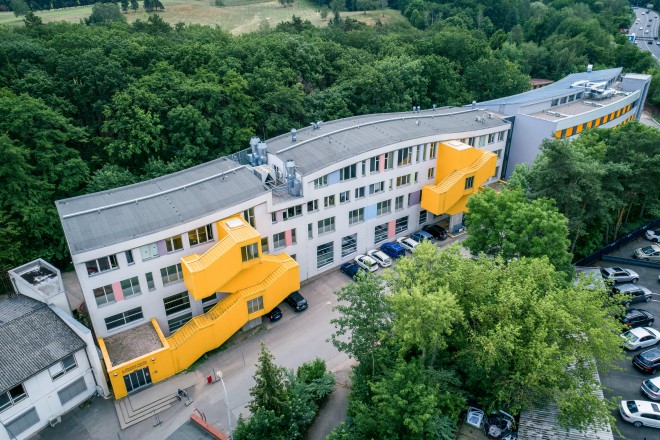 'The Worm', the building which houses the Theoretical Institute and was nicknamed for its shape and distinctive yellow staircase, was opened on 17 June 2011.
The Institute moved onto the Plzeňská Street premises after the Velvet Revolution, which until 1989 served as a military training facility. The lower section belongs to the Czech Technical University and the faculty rents lecture halls used by the Institute. The upper section is owned by the Charles University.
In 2004, one of the buildings became a pile of ash. The fire, which was caused by electrical wiring, completely destroyed the second of four buildings. Thus, the four-building complex was divided into so-called upper and lower sections.
When the fire was extinguished and the neighborhood calmed down, we began to think about building a new building. We decided, instead of rebuilding the burned section, to build something bigger. The two 'partial burns' eventually transformed into a new large building. When you look at the space the architects had to work with, it is no wonder that elongated 'Worm' could only be here.
While walking through the building, you will find the Histology floor that has two rest-spaces: one painted eosinophilously, the other hematoxylinly – to promote study in a beautiful atmosphere.