I Witnessed One of the Wonders of Science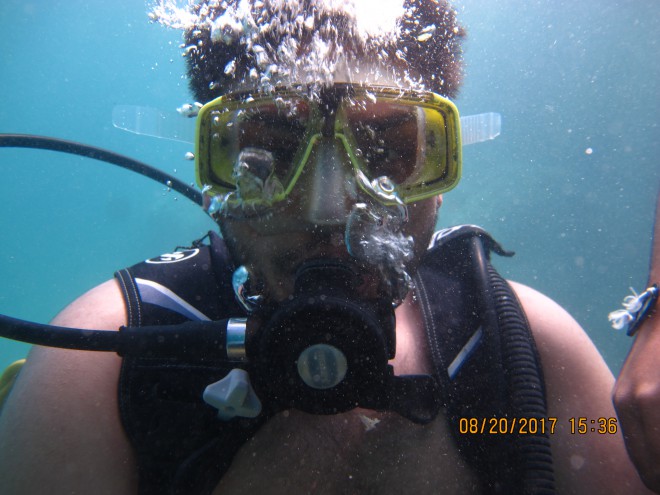 Syed Taha Naeem, a fourth-year student of General Medicine, spent a summer internship in Antalya, Turkey. He sends an essay and pictures. In English.
---
Every year I would see my friends get involved in the IFMSA, I always wondered what it's all about and what do we get to do etc. This year I took a keen interest in it, to find that it's a great platform for students to progress and get life changing experiences. The IFMSA gives us great benefits with its wide network of collaborating hospitals. This summer, I got the opportunity to intern at the Akdeniz University Hospital in Antalya, Turkey.
I remember, I had a problem making a final choice of city because of the current events in Turkey. I needed to keep that in the back of mind and at the same time pick a city that has a great hospital and things to do. I noticed some cities in the eastern region of Turkey held some great art collections and were also famous for their regional food. In the north the larger cities like Istanbul had intriguing architecture and one of the oldest and biggest markets in the world.
The reason I chose Antalya was because I wanted to go somewhere people don't usually go, do something people don't usually do. Everybody who visits turkey would say they visited Istanbul, but only a few would live the culture of this great country through less touristy places. I wanted to see the people, the traditions and the old ways of life, unique to Turkey.
Antalya is a sunny city, in South Turkey, facing the Mediterranean Sea, so you can imagine the number of beach days. The coast of Antalya had stony beaches almost along the whole coast and the locals call it the Turquoise coast as the waters are intensely blue and pure. Swimming under clear skies and clear water, with fishes to sneak up on seemed like a dream, until I got there and I can tell you I wasn't disappointed.
I arrived Antalya late at night, my Contact Person(CP) arranged for my pickup by a local student, we talked about the stories of the great Ataturk, and why there is a 'Turk' in the name Turkey. It was really interesting to look at Turkish people's patriotism and love for their leader. Soon I got to meet my roommates, there were three, all from different countries: Germany, Portugal and Greece. Super international I know, right? If that wasn't already awe-inspiring, I got to meet so many greater people all from around the world, Italy, Bosnia, Russia, Spain, Poland. I was nervous at first wondering If I'd get along, but overtime, they became some of the best company I ever had.
The first day, the CPs showed us around the hospital and I got to meet the Prof. Dr. of General Surgery. He welcomed us and the next day he took us to the surgery ward. I never saw an operating theatre before in my life so going to one that day was like a dream come true. No wonder they call it an Operating 'Theatre', it's truly a beautiful feeling and sight to watch surgeons 'perform'.
At the General Surgery Department, I got the opportunity to scrub in and observe various surgeries like Thyroidectomy, Liver Transplant, Laparoscopic Inguinal/Umbilical Hernia Repair, Colostomy, Mastectomy etc. I observed the basic suturing techniques, mesh placement in hernia repairs, diagnosis and treatment of hernias along with some basic physical examination of the body. Every day we were placed under a different surgical team, so I got to see various specialists and their different perspectives. We were always kept alert, as the surgeons often quizzed us and informed us of various complications of each surgery and how to best avoid them. Our interests were consistently spiked as the surgeons walked us through the surgical steps. It really was an exhilarating experience to be with such great doctors, to be between people who aspire to be great.
Occasionally, I observed surgeries in the cardiovascular surgery ward like LVAD placement, Coronary Bypass Graft. In the bypass graft procedure, I witnessed one of the many wonders of modern science; cardioplegia, watching a beating heart stop and come back to life, meanwhile the bypass machine took over the heart and lung's function. I even felt the thrill and rush, they often mention in Greys Anatomy!
On some days, I had the opportunity to go to the Emergency Department. At first, they only let me observe but then overtime they let me do some procedures too. It didn't take me long to learn the placement of urinary catheters, cleaning of wounds, applying sutures and band-aids. The doctors explained what each machine measured and at what threshold of readings should we get concerned. I got in touch with a very helpful intern, so later during the days, he would let us measure blood pressure and blood glucose on post-surgical patients. He also gave us expert tips on taking blood samples.
In the evenings, we often went to the beach or old town called Kaleiçi, which used to be a sort of fortified ancient city. We found buildings dating back to Ancient Roman times, sometimes with ancient letters carved in. We would often meet up with local students and CPs and walk down the historic yet lively streets of Kaleiçi, to the bars, restaurants and the harbor.
Sometimes we would gather at this food street near our hostel called Kultur Mahallesi. The whole street had such a nice and calming vibe, I still can't explain why, maybe because Food Is Love? Food is Life?
I got to try some of Turkey's finest mouth-watering delicacies like Çiğ köfte, Kumpir, Iskender Kebab, Gözleme and some traditional desserts like Baklawa of course.
On weekends, there were National tours, where students interning all over Turkey would meet at popular cities. I got to fulfil one of the things off my bucket list. I witnessed the sunrise over the Goreme 'Fairy Chimney' Hills from a Hot Air Balloon in Cappadocia and I would be lying if I said it wasn't the most beautiful view I ever had. It was truly spectacular and totally worth it.
We visited many other cities like Izmir, Pamukkale, Ephesus and Olympos. Ephesus and Olympos used to be places of ancient settlement for the Greeks and Romans. I even got to scuba dive with the fishes and hiked in the mountains of Olympos.
All in all, my experience in Antalya was really amazing, one I'll never forget. It's just a place with so much history and traditions, with so much to do and eat! Furthermore, the people there have a such a strong concept of togetherness and family, it was really refreshing to spend a month with such great people. The friends that I made and the things that I learned, will stay with me forever and I hope to visit Antalya with my friends again soon!